The following story is part 2 of 3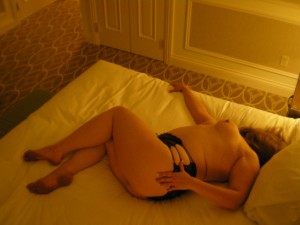 I had her lay down face down on the bed spread eagle.
My friend and I secured her tightly to the bed frame and started to play with her body.  He knelt near her head and she turned her face to suck his dick as I played with her butt cheeks and lick her asshole.
He came around behind her and started smacking her ass as I grabbed several implements of their hooks to use on her.  First was the belt.  As I was whipping her with the belt he came behind me and started licking my ass and fingering my cunt.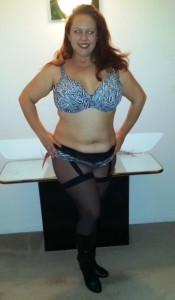 When she was obviously red and sore in addition to her pleas for me to stop I changed from the belt to a horse hair whip and whipped her with it from shoulders to heels.  Again she started crying for me to stop.  He grabbed the whip from my hands and said it seemed soft to him and sensually ran the horse hair up and down the back of her body while I grabbed a flogger.
I flogged her gently until he asked where our double ended dildo was.  I got the double ended dildo out of the drawer and put one and in T's pussy then I climbed on top of her face down lining my pelvis up on top of hers.  He got behind us and started playing with both of us with the dildo.  It wasn't quite long enough for him to be able to move it in and out of our pussies at the same time so he changed to be fingering my asshole as he fucked her with the dildo.
I was getting wetter and wetter and eventually started squirting my ejaculate all over T's ass and pussy.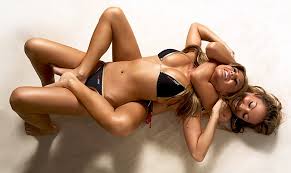 As the fucking became more intense I wrapped my arm around her throat and with her neck in the crook of my elbow I started applying pressure telling her what a good whore she was to be taking such a rough fucking.  There were a couple of times that she got close to passing out and I could see by the look in her eye that she was deep in subspace.
He said he wanted to have me double penetrated with T wearing the strap on dildo and me riding it while he fucked my ass.  We released her from the bed frame and she got on her back.