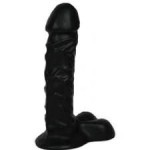 I enjoy role playing with cross dressers!  Yesterday I went to meet a client and I was prepared for a scene where I would be giving him humiliation and degradation while he serviced a big dildo.  I was pleasantly surprised when I got soooo much more!
I walked into his room and first of all I wanted to see his toy.  He says okay just a minute and goes into the bathroom.  I sit and wait for him to come out.  A little while passes and finally he comes out and it was worth the wait!  He was wearing an amazing outfit – a white lacey choker, white gloves that came up above his elbows, white thigh highs with pink bows and lace at the top, big white stripper heels on the bottom of his feet and the cutest part – a white and pink lacey garter belt with little tiny bows encircling his cock and balls.  For some reason this all delighted me!  I liked how much trouble he went through, how it was all matching, and what a different part of himself he was showing me.  He had become a cute little girl who wanted to be good and used by a big black cock.  From there on out I referred to him only in the feminine way:)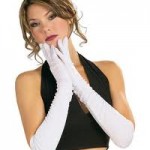 She began to suck on the cock.  At first she was really nervous but after a few minutes her mouth began to relax and she was actually able to get it in.  She wanted to be closer to me and moved the dildo so the base of it was on the chair next to my hip.  I put my hand around the base of it so I could feel what she was doing to the cock.  She got on her knees beside me and wrapped her lips around the tip.  I put my other hand on the back of her head to encourage her to go deeper.  I explained that the best thing she could do was to get used to this position because I would like to make her service lots of cock. I would put her in front of a chair and sell tickets to men to sit in front of her and have her suck them off until they would shoot their cum all over her.  By the end of the night she would be a filthy cum covered whore.  When I felt her teeth scrape the cock I showed her what a man would do if he felt that and pulled it out of her mouth and slapped her in the cheek with it.  Then I had her hold out her slutty tongue and bounced the cock off of it explaining that was what guys with big cocks like to do and no I don't know why.  I imagine if feels good and it sure as hell looks good – her with her open mouth ready to receive and her tongue straining to feel the cock against it.  I had her lick all around the head and suck it a little more.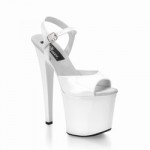 We took a short break and discussed what was going on.  He said he was satisfied.  We sat and talked for a bit.  I sat on the bed to show him my ankle.  Then I laid back on it while we were chatting to get even more comfortable.  All of a sudden he said he wanted to do a little more.
She picked up the cock and put the base of it on the bed next to me.  She licked it as I talked to her about being a good little girl and taking care of the big cock.  She went to my leg and gently kissed down my shin.  I picked up the cock and placed it in between my thighs right against my pussy.  When she came up she had to put her face right in front of my crotch to suck it.  I took on the roll of her daddy teaching her how to be a good cocksucker.  I talked to her about what a cute little thing she was and how she was making daddy so happy and feel so good.  She put one white gloved hand on the shaft to hold it steady while I bucked my hips and pumped it up into her mouth at the same time.  With my toes I gently caressed her little clitty.  I talked about how she was doing such a good job and didn't she know it her clit was getting so swollen.  Spreading her legs more she lowered her pelvis toward the bed so she could grind against my foot.  She took a break from sucking daddies cock and licked and sucked my toes.  I was unbelievably aroused.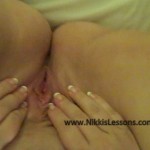 I pulled my dress up and my panties to the side to show her how wet I was.  Slapping it and making some noise with the wetness I explained how that would have been the pre-cum dribbling out of my cock for her to slurp down.  She placed the base of the cock a few inches below my pussy so I could continue to stroke myself.  With one hand I pulled back my clit hood to show her my full clit.  I ran my finger up and down dipping it into my hole, getting it soaking wet and slippery, then bringing it up and running it around my clit.  She reached down and played with her clit too, keeping the cock in her mouth and her eyes on my pussy.  I placed a finger on each side of my clit and pumped it up and down like a little cock and she did the same to hers bringing herself to an incredibly intense climax.