I had the opportunity to cane a very good sub last night and I LOVE IT!
I was confident going in because I love spanking, paddling and flogging.  But this took it to a whole new level!  Through communication and finesse he went deep into sub space taking more that he had thought possible.
I walked into the room, handed him the cane to soak and set up the massage table.  Sitting on the edge of the bed I had him over my knee and gave a thorough spanking and reviewing exactly what he had done wrong to deserve this punishment as well as what steps he would take in the future to stay on track so that next time his spanking could be a reward and not a punishment.
When he was nice and warmed up I had him lay face down on the massage table.  I familiarized myself with his body – his skeleton and where his tail bone ended.  Then I had my fun with the cane!
As a reward I brought him to the other end of extreme plea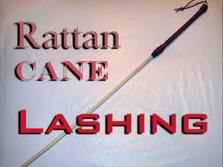 sure and gave him a prostate massage.  He was such a good boy!