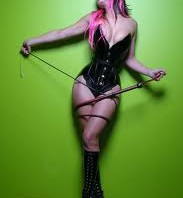 This is a response I put in to a conversation on MyRedBook.com – a place where I advertise and that has a forum. 
Alrighty I have a lot of opinions about this thread but will stay as close to the point as possible.
I agree, a "stripper with a whip" can not only provide bad service but cause serious harm. I have utter respect for Rachel and Kayla because I have researched them and know their commitment to their craft.
I personally entered into providing fetish and kink services because at the time I was providing FBSM and was getting kink requests. I was a natural at it! Choking, spanking, ass play… I already took a dominant stance at the side of my table and when these requests were made I felt the thrill of the power exchange.
As I received more requests I learned about each kink. I also started attending classes and gatherings in our local BDSM community here in Las Vegas. I've never promised more than I can deliver… and I'm lucky I've never had an accident with a client. I've made my mistakes during training and private play.
In January 2011 I began offering escort services. I love sex too much and wanted the extra money it would bring. I know that some people say I'm not a "real Dominatrix" because I allow and enjoy mutual pleasure and physical intimacy with my clients/subs. What I've found is that there is a strong desire for that in the market place – someone who is a little softer and offering kink/fetish services in a sexual/sensual way. Not all clients want it… and that's find. That's also the difference between being a pro-Dom and a lifestyle Dom (for me) – As a pro I cater to their fetish for their time with me versus doing what I like and what gets me off (only) because it is a finite amount of time.
As for offering submissive services – My girlfriend telly advertises those as well as escort and sometimes body rubs. She is a masochist and we've basically set some ground rules and such for how she deals with her Dom clients. If they ask for something including blindfolds and/or bondage then they have to hire both of us for the first session so there can be another pair of eyes in the room. They have a safe word and she knows how to express her limits. She has never had a problem.

Stay Sexy,
Nikki Ivana