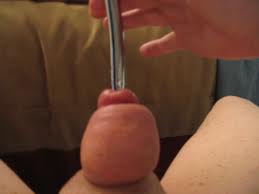 I had one beautiful cross-dressing sissy slut come into town for an over night session.  Telly, Pandora and I staged a kidnapping scene.  As instructed, she was waiting for me already completely dressed and wearing her chastity device.  Pandora and I went into her hotel room and bound and gagged her and walked her out through the casino.  We took her to the parking garage where telly was waiting with the hatch open in the back of the SUV.  We put her in and took off.
We took her to the Power Exchange where all three of us took turns having her service us orally.  It was the first time she'd had a real cock in her mouth!  Then I tied her down to the spanking horse.  We took turns spanking her.  I fingered her ass.  After awhile I moved her to the massage table and put on my strap on.  I fucked her so good.  She really liked it and fucked me back as hard as she could.  All of this while still in chastity!
Later that night when we finally got back to her room I took her chastity device off her and bound her – first with a tight chest harness and then rope handcuffs that I attached to the harness -and then had her lie on her back on the bed.  I got out my sounds and she was really freaked out but she submitted.  I used the sounds in her and finger fucked her until she had the most amazing climax!