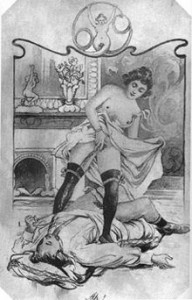 Now I had to pee.  Rather than excusing myself I figured, "Why not make the most of it and piss on him?".  I ordered him to stand up and get naked.  He was a bit shy for a moment but being very submissive he got over it quickly and began to take off his clothes.  When all his clothes were off I had him take off my shoes.  I ordered him to go into the bathroom and sit down in the bathtub.  I took off my pants and underwear and went into the bathroom.
Stepping into the bathtub I positioned myself over his chest.  He leaned in so he could catch my urine in his mouth.  I had to consciously relax myself to begin to pee.  I get so aroused working with my subs that at times it is very difficult if not impossible to piss.  In fact, what happened with this spanko is every time I started to let go he would lean forward to be as close as possible to catch it in his mouth and the stream would stop!  I pushed his head away and relaxed myself again and begin to have a flow only to be stopped with his face just centimeters from my sex.  Finally I passed a good amount of piss but we were in there for awhile working at it.
Once we were both satisfied we turned on the water and rinsed off.  It was very nice.
To be continued…